NarCon
Stress-free pharmacy inspections
Save your time and effort with tedious narcotic counts. Our tool can help you count, adjust, investigate, document, and report your narcotic counts.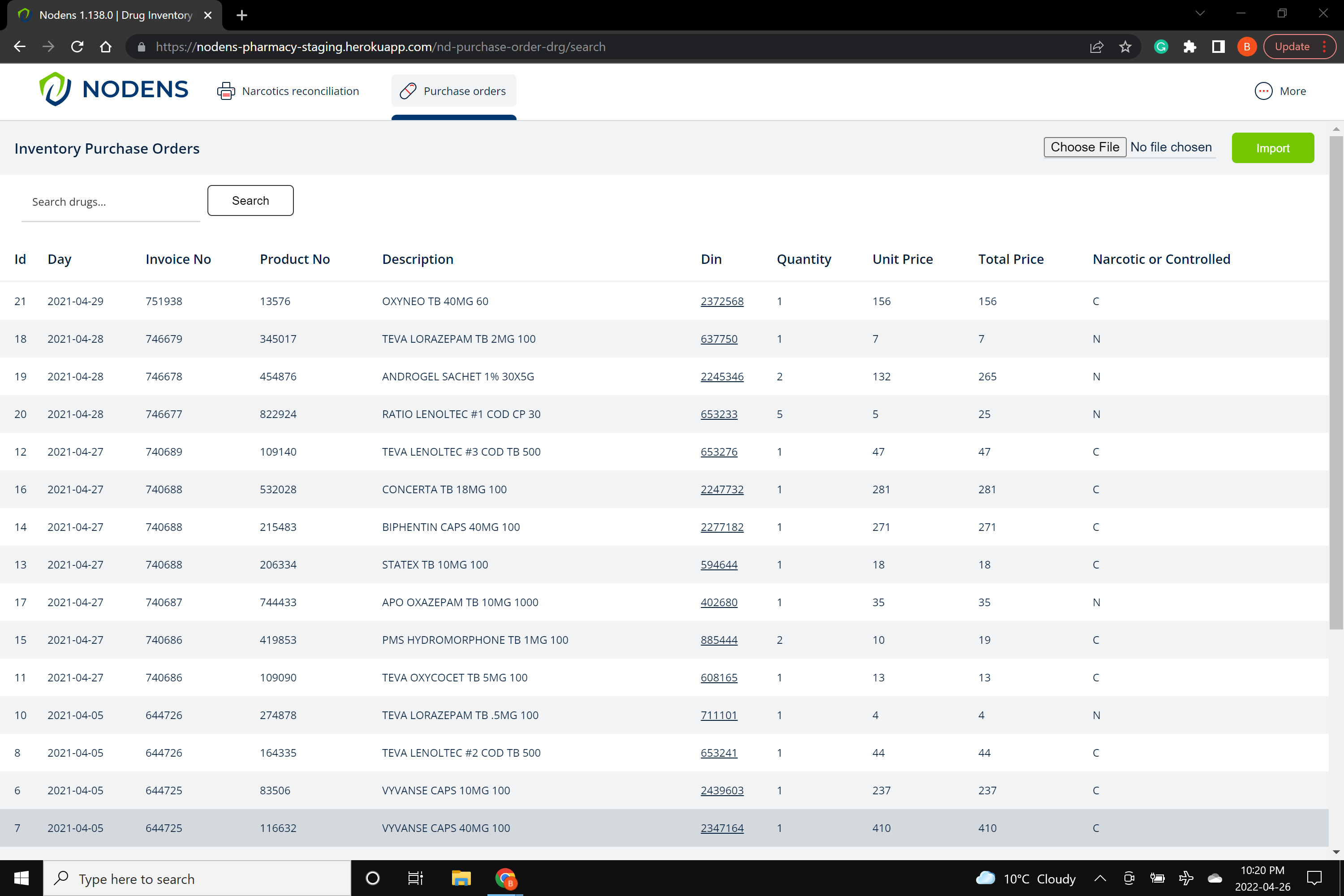 POWERFUL FEATURES
Narcotic reconciliation
Hassle-free Narcotic counts and inventory reconciliations that integrate automatically with your pharmacy management system.
Divide your inventory to count a few molecules every week.
Investigate discrepancies easily by providing possible reasons that might have led to the discrepancy.
Keep paperless records saved on the cloud; all reports can be retrieved in seconds when needed.
*Coming soon* Receive a notification to remind you with your narcotic counts
*Coming soon* Report true discrepancies to Health Canada with few clicks
Why to buy Nodens health products?
Nodens is designed by retail community pharmacists, who know the daily struggle pharmacy teams have. Nodens health will increase the productivity of your workflow, which means you will save time, effort, and money..
Is it important to reconcile your inventory on regular basis?
Inventory reconciliation is an important process to fulfill the legislated requirement to protect controlled substances from loss or theft and provides evidence of taking reasonable or necessary steps to keep controlled substances secure. Putting this off for a long time might impact your inventory. Having significant discrepancies put you at risk of breaking provincial, state, and/or federal regulations
How is Nodens narcotic reconciliation module different from perpetual inventory using dispensing software?
Perpetual inventory systems allow you to measure and track what is on hand in the pharmacy. Narcotic reconciliations are done to audit this system between the past and present to ensure that the perpetual inventory system matches what has been purchased, dispensed over a period of time.
Will it work with my current dispensing software?
Nodens narcotic reconciliation integrates with many dispensing software applications, so all information that you will see on Nodens platform will match your dispensing software, and any change you will make on Nodens will automatically update your dispensing software
What is the difference between Nodens narcotic reconciliation and any other application?
Nodens health is automating all the steps of the reconciliation to make it seamless, by integrating with your pharmacy dispensing software so you no longer need to upload any files, to help you discover the reason for any discrepancy, and also report any loss and theft. Automating all these steps will save you time and effort and stress.
Comprehensive Pharmacy software to help you maximize your profits and minimalize your efforts
WE CAN HELP
We can give you back your time and optimize your productivity
Your pain? We understand. This is why we do what we do, and can provide you with an experience like no other.
Ready to improve your work flow?