PRODUCT
Virtual care to your patients
Perform high-quality professional services at a scale at a fraction of the time currently spent on the current process, with better documentation and enhanced patient experience.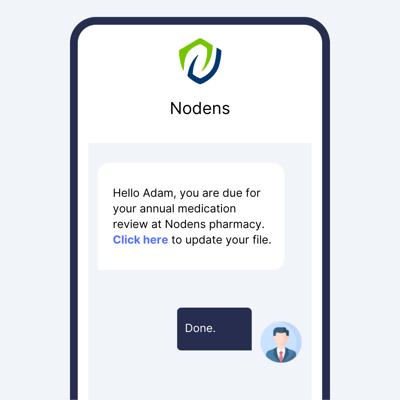 POWERFUL FEATURES
Patient services
Enhance patient care. Minimize time spent on professional services. Maximize your profits by a more intuitive patient communication platform
Medschecks in a few minutes
Enable your patients to update their pharmacy profiles by answering Medscheck questionnaire when they are due for their annual medication review
Nodens integrates with many pharmacy management systems for your convenience
Communicate virtually with your patients and provide an extra way of communication with you
Medscheck & vaccine scheduler
Perform quality professional services at a scale
get your patient's electronic signature on the consent form, and the consent form would be stored on the patient's file
Branding for your pharmacy
***Coming soon*** Create a webpage for your pharmacy and a patient portal where patients can view their profiles and schedule appointments.
Reduce the risk of clawbacks as Nodens will remind you if you missed any of the required fields and will keep all forms saved and it can be retrieved easily when required
You can access Nodens platform from any device from anywhere, and everything is secured with multi-factor authentication
What is Nodens patient services module?
Pharmacists are playing a key role in the health care system. Pharmacists can provide a wide range of patient services *based on provincial regulations*. Nodens is providing your pharmacy with the first pharmacy patient open communication channel, where the patient can access his profile and report any drug-related problem along with completing required questions to perform medication reviews and follow up medication reviews.
What will my patient benefit from having Nodens patient services module?
Your patients will have access to their pharmacy profiles, will be able to update the pharmacy with any change of their treatment, and report any adverse events from any medication they are using.
What will my pharmacy benefit from Nodens patient services module?
Pharmacists' role has evolved a lot in the last few years, and providing patients services became more and more time-consuming. Nodens will help you perform quality patients services at scale. For the first time the patient would fill out a few questions related to their health and medications and once the patient finishes the pharmacist will have a summary of the medication review points that he will need to discuss with the patient. This will ensure that pharmacists never miss points that must be discussed with the patient.
Will I have to complete the medication review form on Nodens and on my pharmacy management system?
Nodens integrates seamlessly with many pharmacy management systems(PMS). This means that patients will access their information on the current PMS, and also any change performed by the pharmacist on Nodens platform will automatically update patient records on your PMS. SO there is no need to repeat any of the paperwork twice.
What does it mean that Nodens is cloud based application?
Nodens is a cloud-based application, this means that Nodens platform can be accessed using any device from any location. this means more convenience to your team and your patients and also easier retrieval of your documents and forms for future needs.
Comprehensive Pharmacy software to help you maximize your profits and minimalize your efforts
WE CAN HELP
We can give you back your time and optimize your productivity
Your pain? We understand. This is why we do what we do, and can provide you with an experience like no other.
Ready to improve your work flow?